"Hot Flash Monitor"
Biologs and Accessories
for Hot Flash recording
Introduction
Studies of human Skin Conductance most commonly look at changes in the subject's Skin Conductance over short periods of time, usually in response to some sort of stimulus. We have supplied equipment for such psycho-physiology studies of Skin Conductance for many years.
A growing field of research for Skin Conductance is the measure of "Hot Flashes" (also known as Hot Flushes in Europe). During a Hot Flash, the subject's Skin Conductance can rise dramatically over an approximately 30 second window, and so the recording of the subject's Skin Conductance can provide quantifiable data about whether or not a Hot Flash is actually taking place.
UFI has been supplying Skin Conductance "Hot Flash" recorders also for many years. As a result, we have developed a number of devices to help you with your HF research. Even so, if you don't find what you need in these pages, drop us a line, and let us know what you require!
UFI Model 3991/1-SCL Single-Channel Hot Flash Monitor BioLog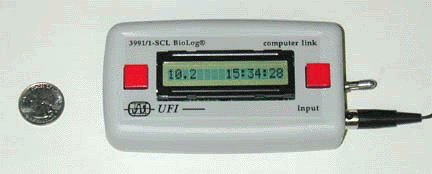 Our 3991/1-SCL Biolog based "Hot Flash Monitor" has been substantially refined over many years of use for HF research, and is often considered the 'Gold Standard' for HF recording.
Our continuing development has resulted in enhanced recording specifications for this device!
Model 3991/1-SCL specifications
SCL Sample Range: 0.01 to 39.9 uMho
SCL Sample Rate: 1 Hz.
Sample Resolution: 12 bits.
Recording Capacity: >30 days
Battery Type: 9V Alkaline
Battery Life: 2 Weeks (added cost option)
Subject Reporting: 0-10 level subject supplied input for 2 different psychological aspects (ex. Strength and Bother) entered via two Event Mark buttons on the Biolog enclosure, and encoded into the recorded data
Posted LCD Information: Current Time and Skin Conductance with Event Mark and low battery indication
Recorder Size: approx. 5" x 2.5" x 1.25"
Weight: approx. 8 oz. with battery
In Development -- FT-Mini SCL/HF Recorder
UFI is proud to announce the development of the FT-Mini Recorder, the latest incarnation of our popular 3991/1-SCL series of menopausal hot flash monitors.
Get the latest imformation here.
FlashTrax Analysis Software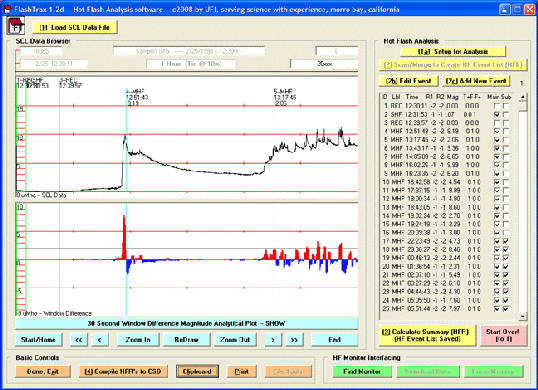 Windows-based FlashTrax HF analysis software performs both simple housekeeping as well as fairly complex data analysis tasks. The routine jobs include initializing HF Monitor Biologs at the start of a recording session; downloading the merged skin conductance and event mark data at the end of the session; and erasing the data memory in preparation for the next recording.
The FlashTrax software package transforms the downloaded data into a single data file that quantifies the subject's hot flash experience over the duration of the recording session. This data may be plotted graphically with annotations, scanned to compile hot flash event lists, and saved in processed form as output/report files. (current price)
UFI Model 3991/2-SCL Two-Channel Hot Flash Monitor BioLog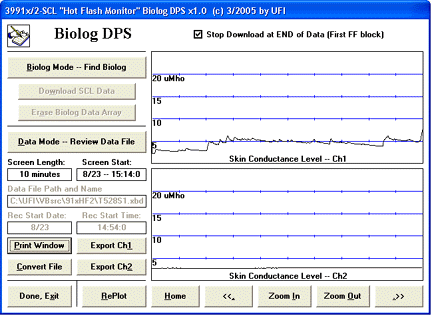 This unique recorder allows the actual HF response to be evaluated from two different sites on the same subject. Switching circuitry inside this Biolog ensures that only one of the two HF sites is independently connected to the SCL signal conditioner at a time, to supply full isolation between sites and their readings.
Contact us for more information about this recorder.
UFI custom multi-channel hot flash monitor systems
UFI can supply many of our data recording systems with BOTH Skin Conductance for HF as well as a wide range of ADDITIONAL signal conditioner channels. ECG and Temperature are the most popular, but more can be added. Let us know what you need!
UFI Model 1081-HFD hot flash electrodes
A typical HF Recording session lasts at least 24 hours. This long recording interval demands the use of a special bio-potential contact medium (paste or gel) between the electrodes and the skin. We can recommend a formulation, but the gel is generally 'compounded' (mixed) on site, prior to use.
As a result, HF electrodes are supplied "dry", i.e. WITHOUT any conductive gel or paste. UFI supplies these "dry" HF recording electrodes. (current price)
UFI Models 1504-SCL and 1504-SP-HF hot flash simulators
We can supply two time-saving SCL Signal Simulators to help remove some frustaration from your HF recording process. (The simulator shown above is a custom unit supplying simulation for both SCL and PPG.)
The 1504-SCL is a simple, passive simulator that just supplies fixed Skin Conductance values -- 0, 10, 20 and 30 uMho, along with momentary "Delta 0.1" and "Delta 1.0" uMho values. (current price)
The 1504-SP-HF includes a microprocessor that manages the generation of an approximate Hot Flash signature, including the fast rise, hold level and taper off. This 9V battery powered device allows the researcher to set the interval between flashes, as well as both the base SCL level and the actual HF Magnitude. (current price)
New! Sleep Study with Hot Flash Recording!!!
Late breaking news! We have recently developed a Telemetry based ambulatory SCL system to allow SCL / Hot Flash recording and analysis to be added to the data flow of a popular EEG focused Sleep Study recording system. Contact us for more information about this SCL/HF Telemetry system!